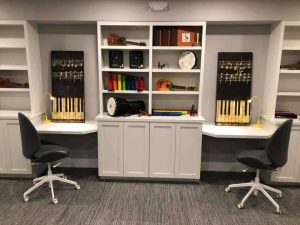 The BoStrong Music room
The BoStrong Music Room is for musicians and non-musicians alike. At the base level it's a place to chill and listen to music. We've created a space away from the rest of the house where residents can go to dim down the lights, put on some tunes, and decompress after a day of treatment.
BoStrong Foundation Methods of Support
Education

Enrichment

Engagement

Experience
The Ulman House
The BoStrong Foundation (BSF) has partnered with the Ulman Foundation, a well-established (20 year) 501(c)(3) organization headquartered in Baltimore, Maryland. The Ulman Foundation has built the "Ulman House," a multi-family facility just 3 blocks from Johns Hopkins Hospital that provides free housing for young adult cancer patients and their caregivers. The house creates a community that fosters peer and social support, decreases financial and other burdens, and encourages hope and healing. The BoStrong Foundation has built a 500 sq ft "Music Healing Space" in the basement of the Ulman House. We have also committed to provide and fund ongoing music therapy programming in the space. The Ulman House is a one-of-a-kind facility.
Education
Education is also a key for the space. The room is equipped to be set up for teaching and presentations. The BoStrong Foundation, Ulman Foundation, and others use the room to provide information to the residents to help them in their journey. Topics can be on anything, but the BoStrong Foundation will focus bringing in our professional partners to provide information on Holistic Wellness.
Enrichment
The BoStrong Foundation funds ongoing programming in the space which provides music therapy options for those young adults and their families staying in the Ulman House.
Young adults with cancer often have many different challenges they face that extend beyond the physical piece of their disease, including emotional distress, increased feelings of guilt, anxiety, fear, loss of control and anger, existential or spiritual issues, increased tension in relationships (specifically family members and caregivers), financial stress, decreased social support, and increased incidence of job loss or unemployment. Music therapy can help patients develop coping strategies to deal with the many complex stressors of living a life with a cancer diagnosis.
Engagement
For those temporary residents that are musicians, the Music Healing Space will be a source of stress relief and therapy. We have equipped the space with various instruments and equipment so that out-of-town residents will be able to have an outlet for their creativity as well as stress relief. In addition, we manage a network of local professional level musicians who are willing to donate their time to work with young adult cancer patients. When a musician-resident is in the Ulman House, a call goes out to solicit volunteers to come to the space and "sit-in" in an impromptu jam session with the patient. This will provide a memorable and satisfying opportunity for the patient to express themselves at a high level with fellow musicians and experience the healing benefits of musical release. Additionally, the room is set up with the equipment needed to send them home with a recording of the night.
Experience
Finally, it is intended to use the Music Healing Space as a venue for "Pop-Up" performances by visiting national performers as a charitable gift for the residents of the Ulman House to temporarily take their minds off their ongoing fight with cancer.
The Music Healing Space is being designed and built to a scalable model. The intent is that upon launch and success, the BoStrong Foundation will seek to scale this space to other cities and locations.
Donors
The following organizations have donated their time and money to this project. Additional financial support for the custom bookshelves provided by the Estate of Samuel Warren Supplee III: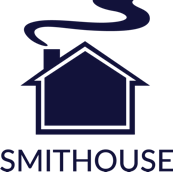 Custom Bookshelves
Smithouse Construction
232 Cockeysville Road
Cockeysville, MD 21030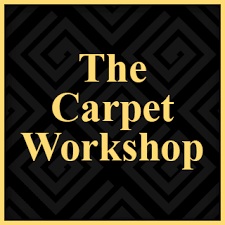 Carpet and Flooring
The Carpet Workshop
3154 Baltimore Boulevard
Finksburg, MD 21048